3M™ Littmann® Cardiology III Stethoscope - Navy Blue Tube 3130
The 3M™ Littmann® Cardiology III stethoscope combines outstanding acoustics and superior versatility. It features a dual adult- and pediatric-sided chestpiece with a tunable diaphragm that allows you to use both sides of the stethoscope to monitor high and low frequencies. Also features a solid stainless steel chestpiece, two-tubes-in-one design, non-chill rims, adjustable double-leaf binaural spring and patented 3M Littmann snap-tight, soft-sealing eartips. Five-year warranty. The Cardiology III is available in a variety of distinctive tube colors and unique finishes that will coordinate with your uniform or allow you to express your unique personality.
Dual Head Cardiology Stethoscope
Two patented tunable diaphragms allow for listening to both low- and high-frequency sounds with either side of the chestpiece.
Two tubes are incorporated into a single-tube design that eliminates noise artifacts created from two tubes rubbing together.
Headset assembly is permanently set at an anatomically correct angle to minimize air leaks and prevent the headset from loosening over time.
Chestpiece features a non-chill rim and diaphragm assembly.
Patented 3M Littmann snap-tight, soft-sealing eartips assure maximum comfort and excellent acoustic seal. An extra pair of small eartips is provided to assure a personal fit.
A selection of distinctive tube and finish combinations available
Personalize the head with your initials or personalize the tubing so your name is visible to patients and co-workers when your stethoscope is hanging around your neck.
27" length
Most tubing colors come with chrome eartubes and grey eartips. Black eartips come with black or chocolate tubing, and with brass, copper, smoke and black eartubes.
Your 3M™ Littmann Stethoscope comes with the Littmann Warranty -- if a material or manufacturing defect occurs during the warranty period, Littmann will repair it for free of charge, except in the cases of obvious abuse or accidental damage. If your warranty has expired, we have replacement parts and accessories here.
For Littman comparison chart - Click Here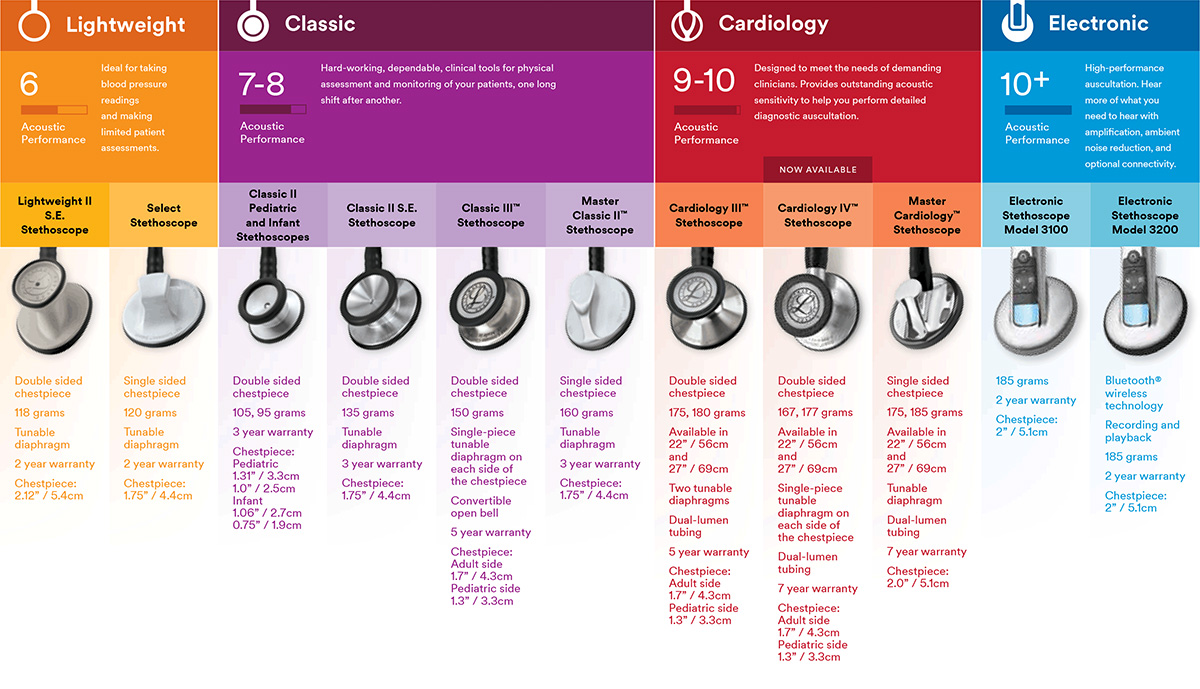 3M™ Littmann® Cardiology III Stethoscope - Navy Blue Tube 3130
Brand: LITTMANN
Product Code: Littmann
Availability: In Stock